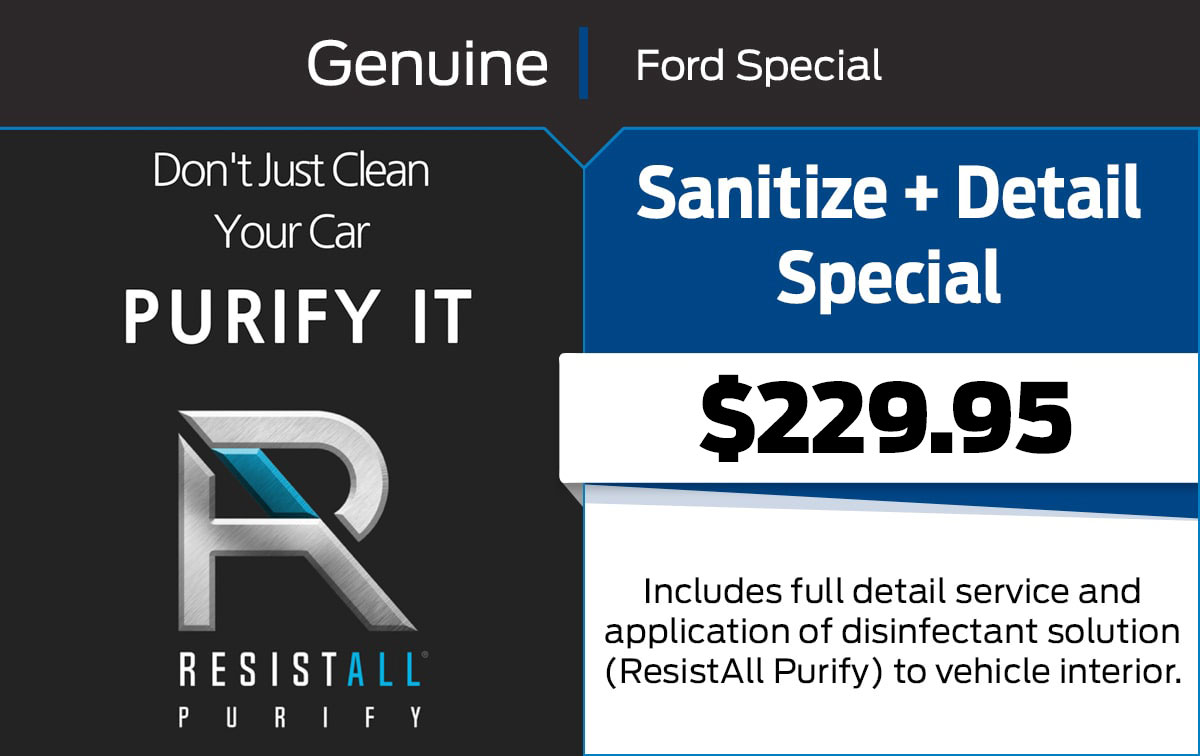 Sanitize & Detail Service Special Offer at Chapman Ford of Northeast Philadelphia, PA
There are times when simply cleaning your Ford isn't enough. In times like that, head to Chapman Ford of Northeast Philadelphia near Levittown for our detailing and sanitizing service! Not only will your Ford be clean and protected, but it will also be sanitized. We're offering a discount on this service for a limited time when you head to the dealership with this coupon. Find out more about this service below, and then head in while these savings are still available!
What Goes Into the Sanitize & Detail Service at Chapman Ford of Northeast Philadelphia?
When you visit Chapman Ford of Northeast Philadelphia for this service, we'll give your Ford a full detail. Our technicians will thoroughly wash the exterior, but they'll also do much more than that. They'll remove bonded dirt, polish, and wax the vehicle's exterior, restoring its gleaming shine and keeping it protected. They'll also detail the interior of your vehicle, vacuuming and shampooing upholstery or scrubbing and conditioning leather, as well as cleaning plastic, vinyl, and glass.
This is just the detailing part of the service. Especially in times like these, it's comforting to know that your vehicle is truly sanitary. Our technicians will apply ResistAll Purify, a disinfectant solution that can help provide peace of mind. ResistAll Purify has been registered with the EPA, and it can kill 99.99% of viruses, bacteria, mold, and other nasties that can accumulate in your vehicle.
Why Choose Chapman Ford of Northeast Philadelphia?
There are several places in the Philadelphia area where you can have your car detailed, but Chapman Ford of Northeast Philadelphia has numerous advantages over these. For one thing, our technicians have been trained and certified by Ford, so they show utter dedication to keeping your vehicle at its best. We have access to Ford-approved cleaning and detailing products, as well as products like ResistAll Purify. This sets us apart from the crowd. What's more, our services are competitively priced, and regularly updated special coupons like this one can help you save even more.
 Schedule Service