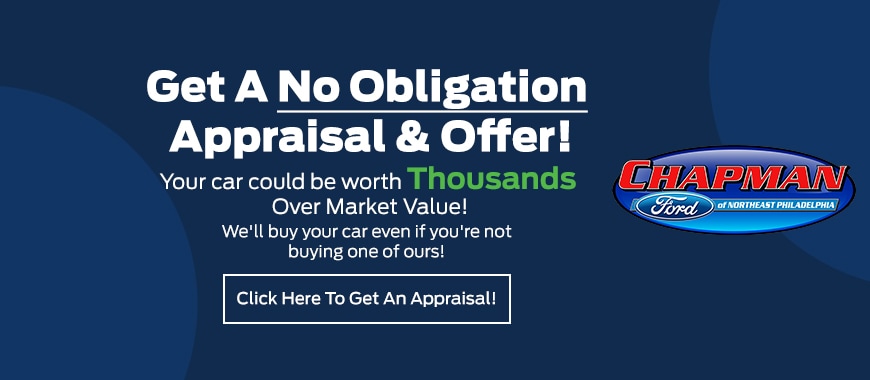 Looking to unload our old car, truck, or SUV, but still want to get the maximum possible value out of your trade? Chapman Ford in Northeast Philadelphia, PA is here to help! At our dealer, we're prepared to offer you an insane value for your pre-owned ride. The process has never been simpler. Read more right here!
A Quick and Painless Process!
When you're ready to trade-in your beloved ride, you don't want any hassle. At Chapman Ford, we understand this, and that's why we've ensured that our process is as simple and easy as possible.
Firstly, we'll perform a brief, routine inspection of your trade. Then, we'll crunch the numbers and the most recent local and national data in order to gauge the best possible offer we can make for you. Lastly, we'll hand you a cashable check the very same day, or take some money off that bright shiny new ride you've had your eye on for some time. That's all it takes!
Offering the Absolute BEST Value for Your Trade!
At our dealer, we understand how important it is to maximize your used car's value. People may say we're crazy, but this philosophy is exactly why we are prepared to offer you up to $1,000 MORE THAN MARKET VALUE for your old ride.
No matter what, we want to make sure you're taken care of, and we're always looking for high-quality inventory; now that sounds like a win-win to us!
Save More with Chapman Ford!
Want even more incentive to trade-in with Chapman Ford in Northeast Philadelphia? How about the fact that by doing so, you could potentially save thousands of dollars in state sales tax?
Oh yes. Depending on your state's sales tax rate and the maximum value of your trade, it's entirely possible that you can save majorly on state sales tax. It's happened before, and it'll happen again!
When you trade with Chapman Ford in Northeast Philadelphia, you're almost certain to save more in taxes than you would simply by selling on the private market.
At Chapman Ford in Northeast Philadelphia, PA, we aren't messing around. When you need the absolute maximum return on your trade, you'd be hard-pressed to find a better deal than ours. Don't wait for a rainy day, seal the deal with Chapman Ford in Northeast Philadelphia today! Contact us online, by phone, or in person to get started.
Custom Vehicle Landing Page by

BitMoto